Everybody has seen a television commercial advertising maintenance free vinyl siding. All you do is rinse it with a garden hose. Right? Anyone who has tried this method of cleaning knows it to be much harder to clean. Vinyl siding is obviously not maintenance free.

Although it is possible to manually clean vinyl siding with a hose, bucket, brush and lots of elbow grease, the preferred method recommended by many siding manufacturers is power washing. This method, properly used, allows you to safely and efficiently restore the natural beauty of your siding thus maintaining your investment.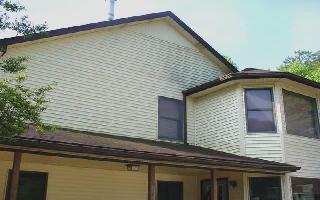 Before
Aqua Clean Pressure Wash and Wood Care's cleaning process not only cleans and enhances the natural beauty of your siding but can also leave adjacent dirty and stained areas like gutters, foundations, walkways and steps clean so they don't detract from the overall appeal of your property.
After thoroughly wetting your surface and surrounding area, Aqua Clean Pressure Wash and Wood Care's employees apply mild biodegradable cleaners, followed by manual brushing as may be required, followed by a LOW pressure wash and final rinse. Specialized equipment allows our employees to adjust the water temperature as needed from cold to hot. Our experience has shown if you apply the proper cleaner at the right temperature you don't have to compensate with higher water pressure to try to "force the dirt off".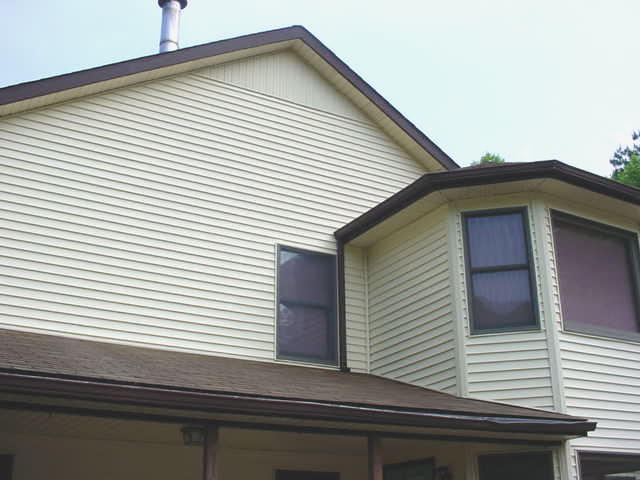 After
Our "low pressure" cleaning process is both safe and effective allowing us to achieve consistently superior results without the threat of any damage. Our cleaners are effective at removing mold, mildew, dirt and grime yet are biodegradable and safe for people, plants, and animals. Our process ends with a complete fresh water rinse of all the cleaned and surrounding areas. All glass surfaces are triple rinsed to reduce the chance of any water spots.
Once your siding has been cleaned we can suggest a "no obligation" schedule of periodic cleanings to insure your property stays in top shape. Beyond the value achieved through these periodic cleanings you will be protecting one of your biggest assets by properly maintaining it. After your property is assessed and a schedule of cleanings is suggested, we will send out reminders to inform you when a scheduled cleaning is due. We can even schedule free periodic inspections to assess your property's current condition and adjust your schedule to insure your property stays in tiptop shape!